Unemployment.
Unemployment is hard for anyone to go through and that includes people with disabilities. People with disabilities have the highest rate for being unemployed (and the
rate of those with intellectual disabilities is twice as high for the general population
) and being paid wages that are below minimum wage.
People with disabilities are at a catch-22 when it comes to being employed. I think if you ask, the vast majority of these individuals want to work, but even if they do get a job they have to make sure that they don't make enough to go over the $2000 threshold or they will start to lose benefits they rely on.
More statistics from the link above:
Nationally, 34% of people with intellectual disabilities are employed. (Previous research conducted on behalf of Special Olympics has shown that 52% of adults who participate in Special Olympics are employed.)
Of employed people with intellectual disabilities, 53% are employed competitively (i.e., work alongside people without disabilities at a market-driven wage); 38% in a sheltered workshop (work centers specifically for people with disabilities), and 9% in other settings (e.g., are self-employed).
Of those competitively employed, 28% work in customer service; 17% in retail; 16% in food service; 9% in offices; 8% in manufacturing, and 22% in other sectors such as childcare and landscaping.
Of the adults with ID employed in a competitive setting, over half (62%) have been at their job for three years or more.
However, only 26% of employed adults with ID have full-time jobs. Only a third were offered health insurance by their employer.
Many people with disabilities are creating their own employment by becoming self-employed.
Three years ago during "31 for 21" I hosted
"21 Days of Giveaways"
that featured many products made by people with Down syndrome, or from companies that employed people with Down syndrome.
Here is a list of of
businesses owned by adults with Down syndrome
. It doesn't include every single business venture, i.e.
Tim's Place restaurant
isn't listed, but it's a good place to start if you are looking for ideas or to purchase gifts from entrepreneurs who have Down syndrome.
I often wonder what Kayla's wishes for employment will be; I think something to do with kids as she really is drawn to little kids. Most of the time she says she wants to be a doctor's helper, which is surprising because she very much dislikes anything medical. Maybe she can be a calming presence to other kids who also very much dislike going to the doctor!
Speaking of businesses by individuals with Down syndrome, don't forget about the
giveaway to win a set of hand-made cards or a coloring book from Rebecca Page of Livin' My Dreams.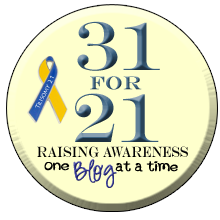 Grab Th
i
s B
utton