More and more individuals with intellectual disabilities are finding a place at college after high school.
It might not look like a traditional college experience by the class courses/non-degrees, and in some ways some of the programs offered at some colleges
aren't very inclusive at all
, but there was a time when individuals with disabilities weren't even allowed on campus; so a lot of progress is being made.
Now students with intellectual disabilities are making plans to continue their education after high school by attending a college or university program designed with them in mind.
Think College
is the go-to website for information about all of the programs that are offered in every state; 246 programs to date.
You can
search through the various programs
based on certain criteria and compare the different programs as well.
The website also has a list of
resources for families
to get more information about transition planning and participating in post-secondary education.
Think College is doing a lot to advance the opportunities for individuals with intellectual disabilities. Here is a document on
Building Inclusive Campus Communities: A Framework For Inclusion
.
Now that Kayla is in middle school it feels like her school years are going warp speed and she'll be finished with high school before I know it. I'm glad that she will have opportunities and choices available to her for post-secondary education, like the
REACH Program at the College of Charleston
, especially since
she has a scholarship
waiting for her.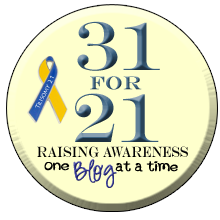 Grab This Button