Most of the time when I look at Kayla, or look through pictures of her, I don't see a strong resemblance to myself.
I look through pictures from when I was a baby, or toddler, or young girl and try to see Kayla in those pictures, but still don't usually see anything that makes me think she looks like me.
Yes, she has an extra chromosome which does lead to some characteristics that I don't have, but she also has all those other genes and chromosomes and my DNA so she should resemble me somewhat!
I look at other kids with Down syndrome and their families and siblings and can usually see such a strong resemblance with their other family members...like it is so obvious who they belong to.
I think Lucas looks like my brother and he looks like
Joe in this picture of Joe as a young boy
.
Even when I look at that old picture of Joe, I don't see a big resemblance with Kayla as I see with Lucas.
Last year Kayla and I took some pictures together ... and finally ... finally! (in this picture anyway) I can see a bit of resemblance. In this picture I can say that she does favor me, even if it's just a little bit!
And maybe a tiny bit in this old picture of me (but I still see mostly Lucas, ha!)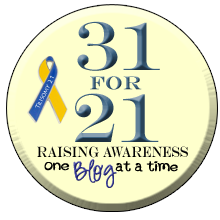 Grab This Button