The National Down Syndrome Society has created an initiative to encourage businesses to hire people with Down syndrome and increase opportunities for individuals with Down syndrome to work in competitive employment settings. This new employment initiative is called
#DSWORKS

TM
.
The
resource page
includes links for employment/volunteer work, employers, webinars, scholarships for entrepreneurs, and more.
In order to better serve the community with this employment initiative NDSS is asking people with Down syndrome, their parents, or employment specialists/job coaches to
fill out this survey
.
The first-ever
employment conference
will be in Arlington, VA next April and geared towards ages 14 and older.
Two recent adults with Down syndrome have made the news for becoming the first teachers with Down syndrome in their respective countries.
Teacher with Down Syndrome Inspires Students in Gaza
and
Argentina's First Teacher with Down Syndrome
.
I'm starting to think about employment or volunteer opportunities with Kayla. Not that there is a big rush right now, but when I was 13 I did have some babysitting jobs and I was also a 'cart pusher' at the base commissary. We collected all the grocery carts from the parking lot ... we would work a few hours on Sat/Sun and I remember the feeling of accomplishment and empowerment it was to have my own money.
She did have that
one job experience
that she enjoyed helping out the hostess at a local restaurant.
Her first job will probably be at
Dairy Queen, if she has her way about it
! I would just worry that she would try to eat more of the ice cream than serve it!
Farther in the future I can see Kayla having a job like the two ladies featured in the links above - working with young children. She is really drawn to the younger kids and I think she would do great in a job like that - assisting, or teaching.
I can also see her getting a job at Disney World as one of the characters. She loves dressing up and again, interacting with younger kids. She would be in her element in a job like that; it would probably be her dream job!
Only time will tell what she ends up doing, but I am going to look at possibly having her volunteer at the library next summer for the summer reading program as a place to start being involved and responsible.
If you have older children with Down syndrome what was their first job and/or volunteer experience?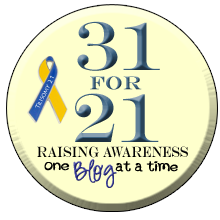 Grab This Button