There are numerous books about Down syndrome, written by parents of children with Down syndrome, a couple written by a person with Down syndrome, and some aimed at young children to teach others (namely their classmates about Down syndrome).
Overall there aren't books that feature a main character who has Down syndrome, so while these books are about a person with Down syndrome they are usually written from a friend's perspective like
My Friend Isabelle
(read to Kayla's 1st grade classmates) and
High Five and a Big Heart
(read to her 3rd and 4th grade classmates.
There is
Meet Annie
(read to her 2nd grade classmates) in which Annie is most definitely the main character and has Down syndrome; but it is meant for the much younger age group.
Sean Adelman decided to write a book that has a main character who has Down syndrome - and this character is based off of his own daughter. The first book -
Sam's tom Secret Journal: We Spy
- has now turned into a series with two more that have been published:
Sam's Secret Island
and
Memorial Day.
The series' character - Sam - starts out in 7th grade and is in 9th grade by book three. In each book she goes on an adventure with her younger brother and they help someone along the way.
We haven't read any of these books yet, but I've bookmarked them for Christmas; I think Kayla would be interested in them especially reading about a character who was like her - similar in age and has an extra chromosome.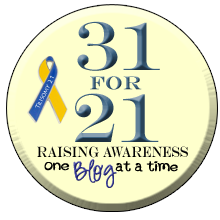 Grab This Button