Just as I couldn't do a K post without it being about Kayla, I can't do an L post without it being about Lucas.
Lucas, oh that son of mine, he's always been my little buddy. His mind races with so many thoughts and ideas and grand schemes and I don't know what to do with all of it. I'm also trying to figure out how to be encouraging of all his ideas without giving him false hope or overblown praise. But some of his ideas are just not so, how should I say this? Realistic.
Take Harry Potter, for example. He read the entire series over the summer (he was very proud of accomplishing this goal, too!); but now he has it in his head that he is going to build, with his dad's help, a flying broomstick. He's going to have a store and space where people can practice flying their broomstick and playing Quidditch.
He still wants to build a flying broomstick, but one day after school he told me all about this idea, seemingly without taking a breath:
"Mom, me and J are going to build a flying mat! And we're going to charge $5 to take 2 rides around the block! That would be worth it right?! Don't you think people would pay $5 to go around 2 times? And if we get 20 people, which I'm sure we're going to get AT LEAST 20 people, we'll already have $100! And after about a week for word to spread around, because I'm sure people will talk about it, I'm sure we'll get A LOT more people who want to take a ride!"
He has many other ideas about how to make money, too.
- He wants to sell all the shells he's collected at the beach for ten or twenty-five cents
- He made up his own astronaut-themed board game using the inside of a cereal box and a die; he wanted to know how to get his game in stores
- He wants to help the younger kids on our street learn to read and do math and maybe their parents will pay him to teach their kids
- He wants to clean things around the house and if he finds something he's really good at he can go around to the other houses offering to do that job for money
Sometimes I just don't know how to keep up with him. He keeps me on my toes, that is for sure!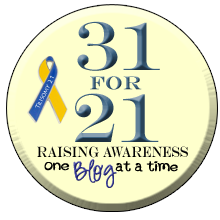 Grab This Button