What else could I do for "K" besides Kayla?
Although what is there to say about Kayla that I haven't already said in 9 years of blogging?!
Kayla loves live theater. She seems to be interested in the whole aspect of it - her own role as well as the roles of the other actors. She enjoys watching live theater productions as much as she does being on stage and part of a play. We take the kids to a couple shows a year produced by the
Charleston Stage
and they always have a great time.
The past few years (3 for Kayla, 2 for Lucas) they've also participated in
Missoula Children's Theater
; the traveling company goes to military bases and in one week's time the kids perform their play.
This past summer they were in a production of The Little Mermaid.
These plays are half-musicals with lots of group songs throughout the play as well. Kayla's speech is such that she can't quite keep up with the fast-paced lyrics of a song, but she generally gets the chorus down pretty well. She can't hold a tune - just like her mother - but unlike her mother she doesn't care and won't lip sync. I love that she doesn't have any insecurities about this and isn't self-conscious when she is on the stage.
In this video clip she did say her first line too quickly - she said it at the same time Lucas was supposed to say his line (and she did
so well
during all the rehearsals and when we practiced at home - she knew her line was right after his, but got too excited.), but she nailed her next line right on cue.
I'm glad that she has found something she has so much fun doing.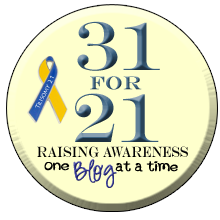 Grab This Button