Before the end of last school year we had Kayla's 3-year re-evaluation meeting. For those who aren't familiar with the IEP process - every 3 years the team meets to re-evaluate if the student still meets the requirements/diagnosis for an IEP. Sometimes this can be quick with everyone agreeing that yes the IEP is needed and appropriate. Sometimes it can take longer because testing will be recommended.
This re-testing was suggested to us because Kayla is now 3 years older than the last time this was done and her age falls into the next age bracket of this test; they would be testing different skill sets.
Some of the testing requires the parents to fill out a long questionnaire about their child's abilities etc. I forget the actual name of this evaluation, something functional, I think.
It is a long questionnaire though and what I remember from the last time I filled one of these out, it asked a lot of things that Kayla wasn't doing yet, or not exposed to having an opportunity to do yet. Things I wasn't aware of what they might be looking at to assess her abilities. This isn't academics, it's more of a daily living skills; an awareness type of evaluation.
So when they asked about doing this again I was against it. For one I didn't want to put Kayla through another battery of testing, especially when it wouldn't change the outcome. She would still qualify for services without having to do this evaluation, and the results would confirm that. It would give us some ideas of 'life skills' goals to work on, true. But I think it would also be a glaring light in my face of all the ways I have thus far failed as a parent in teaching her those skills that I didn't know she should be learning at her age.
That's how I felt after answering the questions last time. One answer after another I questioned myself, "Are kids her age really doing this? She should be capable of doing this already? Is this something we should have worked on with her?"
I didn't want to be faced with all the ways I might have still been failing her in that department.
I don't remember what skills or knowledge of life responsibilities I had when I was 12. I know I was able to babysit, and I made money doing so. Kayla couldn't do that right now. I don't really remember my parents teaching me specific things either - it was just a general awareness you gain as you age each year and learn about life around you. It's those common sense things you just figure out as you mature.
I'm aware that I sometimes do too much for Kayla, sometimes out of necessity, sometimes because it's just easier. I'm aware that I'm not doing her any favors by doing things for her ... but sometimes it's hard to pull back.
I want to instill independence in her. She needs to be independent in navigating her world and I'm not always going to be by her side. She independently navigates her school without an adult aide walking her to and from classes. She knows which class she needs to go to and she goes there. Of course independence is much more than that, I just don't know where to begin. I don't know what kids at 12 years old are doing. She does some chores ie emptying the dishwasher, putting her clothes away, folding towels, general cleaning up of toys.
What are you doing with your 12 year old? What responsibilities do they have?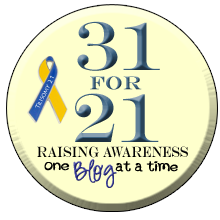 Grab This Button