This post is in tribute to where Kayla was born and her first best friend.
Technically she wasn't born in an "H" place - it was Gerald Champion Medical Center in Alamogordo, NM; but it was while we were stationed at Holloman AFB.
It is such a small town, there weren't any support groups for families with children of Down syndrome, or for any disability, that I was aware of. I didn't know any other families who had a child with Down syndrome that I could connect with.
But we had community. We had the military community, the military spouses' community, and the MOPS community. They were wholly and unconditionally accepting of Kayla. There was never a hesitation or question about putting her in the MOPS daycare - no one ever said they didn't know if they could watch a child like Kayla. I attended MOPS, she went to the child care, and that was that. That is the way it should be. I'm glad our early experiences were so inclusive.
Her first best friend was Harrison, born 4 months after Kayla. They spent their first 5 years together and they were, at times, like two peas in a pod. On more than one occasion I, or Harrison's mom, were asked if they were twins.
I loved watching these two interact together and 'grow up' together (as much growing up as you can do by the time you are 5!) It made it hard to leave NM because I wished they could've continued growing up together; I imagine Harrison would have always looked out for Kayla.
So in honor of their early friendship, a picture journey (and I will spare you the pictures of the day I found them wearing their birthday suits playing in Kayla's room!):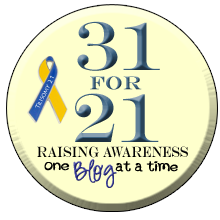 Grab This Button