There have been several news articles about Down syndrome over the past few weeks.
A few of the articles pertain to a new study that was recently released showing
Parents, Siblings, and People With Down Syndrome Report Positive Experiences
. More on this study:
Down Syndrome's Rewards Touted as new Test Looms
,
Inspiring Portrait of Down Syndrome at Odds With Perfect Baby Pursuit
, and
Down Syndrome Awareness Makes A Difference
.
Three surveys were conducted by doctors from Children's Hospital in Boston. The overall results "suggest the reality of Down syndrome is positive for a vast majority of parents
, siblings and people with Down syndrome themselves."
Just over 2000 parents or guardians were surveyed and 79% reported that "their outlook on life was more positive because of their child with Down syndrome."
For me, the more important part of the survey results were from the adults themselves who have Down syndrome - "99 percent responded they were happy with their lives, 97 percent liked who they are, and 96 percent liked how they looked."
People with Down syndrome do not suffer and live less-than desirable lives. They are happy with their lives and happy with who they are. Isn't that what we all want out of life?
In other news ... a
Down Syndrome Consortium
has been formed between the NIH and several Down syndrome groups. This sounds like positive and promising new since Down syndrome research is so
underfunded by the NIH (less than .01 percent of its research budget)
.
A focus of the consortium will be the implementation of the NIH Down syndrome research plan, which set research goals for Down syndrome, based on previous research accomplishments and the need for research in areas in which evidence is lacking. The consortium will meet two to three times a year.
An update on Punky
(that I blogged about during last year's 31for21 challenge) - the first animated show featuring a character with Down syndrome; it has been
picked up by Target Entertainment
and they will be giving half of the earnings to
Down Syndrome Education International
. Punky is produced in Ireland and Target Entertainment will launch it internationally.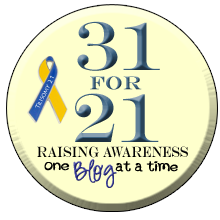 Grab This Button