There are so many programs for students with disabilities opening up in colleges all around the country. It makes me feel hopeful for Kayla's (and her peers) future. For opportunities that will be available to her.
Even though Kayla is only in elementary school
I've been 'following'
the
College of Charleston's REACH Program
since Joe received orders for Charleston.
A couple months ago there was article about students in the REACH program being able to
reach their college dreams.
It was mostly a positive article, but there were some things I didn't realize. While this is a 4-yr program and the students attend academic classes, receive career counseling, have internships, get on-the-job training, and live in dorms with typical college students, they won't receive bachelor degrees; instead they'll receive certificates if they complete the program.
Despite not getting the bachelor degree I still thing it sounds like a wonderful program and great life experience. More doors will be open to these students for completing this program.
The problem is the cost of the program. It sounds like they are still paying the same cost as students who are getting their degrees. 16K for in-state residents (24K for out-of-state) and another 11K for room and board.
"Students from lower-income families are eligible for PELL Grants, some money is available from the Vocational Rehabilitation Department and a few scholarships are available. But students aren't eligible for lottery scholarships or student loans. The cost largely falls on families and leaves out many who could benefit from the program. "That's a tragedy," she said.
Last year, five students began the program, but two had to leave before the end of the school year because of financial problems. A third student couldn't afford to return this year."
So they have the same cost as typical students, and go through 4-yrs like typical students, yet they aren't eligible for lottery scholarships or student loans. How frustrating because that limits families who just can't afford it. Yet the benefits from it are almost priceless:
"And students with disabilities who receive even one year of post-secondary education are twice as likely to be employed and earn 75 percent more than those who do not."
Then there is the story of Craig Blackwell, who has Down syndrome, and
owns his own home
. Yet, the frustrations I touched on in my
Medicaid, SSI, SN Trust, Oh My
! post ring true in his case.
Mr. Blackwell is engaged. He met his girlfriend at an NDSC convention 9 years ago and have been a couple ever since; engaged the last 4 years. He lives in Louisiana, she lives in Oklahoma. They both get their benefits through their state's programs. If she moves to his state she'll lose her benefits and the same if he moves to OK. It took him
14 years
to get the waiver in Louisiana and if he moves he would have to start all over again.
The only thing he wants now is to marry his girlfriend and have a place to themselves. But for now they have a long-distance relationship with the help of the phone, Skype, and Facebook.
It just doesn't seem fair. He owns his own townhouse, but can't get married because if either of them move to a different state they'll lose needed benefits and have to start all over.
Things have to change for people with disabilities to be afforded the same life experiences as those without disabilities.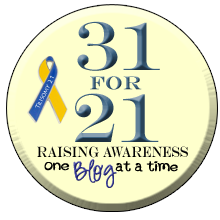 Grab This Button