Patience.
One of the most common statements I hear is, "Having a child with Down syndrome (or special needs in general) has taught me patience."
I wish, wish,
wish
I could say the same thing. I wish having Kayla taught me to be a more patient person. But if I said that it has, I would be lying. Somehow I keep missing the lesson on that one.
If anything, I think it might have made me more
impatient.
I hate to admit that, but it's true.
I find myself constantly rushing Kayla and telling her to hurry up and come on. She meanders. She takes her time. She gets distracted on the way. What should take her 2 minutes to go to the bathroom takes her 10. She looks in the mirror and sings or has conversations with herself. Every few seconds I'm telling her "Kayla just
GO
to the bathroom already!"
It's not just her slower pace with every day things that I get impatient with either. You should see the fun we have when doing any type of school work. Makes me want to pull my hair out. Or get a root canal. Anything but sit there and try to do homework with her. Even having her read a book causes me to grit my teeth. It's not taking her so long to figure out each word; she knows the words. It's that she'll read one word and then look around the page. Or read one word and glance up to see what Lucas is doing. Her lack of being able to focus on the task at hand without being distracted by everything going on around her drives me crazy. Makes me want to put horse blinders on her!
Sometimes I wonder if I'm not learning the lesson on patience because I'm focusing so much on the 'more alike' part instead of the 'than different' part. I'm not allowing for the very real differences in her genetic make-up and personality and the way she learns and goes about every day tasks.
I'm too focused on pushing her to be 'more alike', to not want her to fall 'so far behind' that I'm not giving her the time she needs to process things.
Sometimes I forget about the 'than different' part on my own child and see the 'more alike' stuff and that is when I become impatient and think 'come on Kayla, how come you are just not
getting
this?'
Sometime I forget about the Down syndrome and what that means for Kayla.
I know I'm not doing her any favors. I know I'm not helping matters any. Yet I can't seem to stop and slow down and have
more patience.
It's one of my shortcomings.
So, no, you won't find me saying that having a child with Ds has taught me to be more patient. I'm still trying to learn the lesson on that one.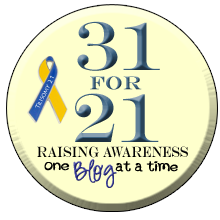 Grab This Button