I've shared some videos and a number of news articles pertaining to Down syndrome for this 31 for 21 challenge, but I haven't blogged a whole lot about my own thoughts or experiences. I do have a few topics sitting in my draft that I'll get to, but after participating for 4 years now I'm running out of topics to blog about.
Over the past 4 years I've blogged about:
-
Stereotypes
-
Characteristics
-
10 Facts About Down syndrome
-
My Story
(finding out about Kayla's diagnosis)
-
Kayla's birth story
- My
guilt surrounding Kayla's birth
-
Q&A
-
Parenting and Perceptions
-
Hope & Normalcy
and then a follow up to an anon comment
Hope & Normalcy, Part II
-
21 Things Kayla used to say
-
50 Things About Kayla
- My thoughts on it being a '
cruel and unusual punishment
' to knowingly have a child with
Ds
(yes someone actually said that!)
- Things Kayla
CAN
do and things she
CAN'T
(reading over this list from last year I see some things on there she is now doing -
yay
Kayla!)
So if you have any suggestions for topics you'd like me to blog about, or have any questions, please feel free to ask or make a suggestion!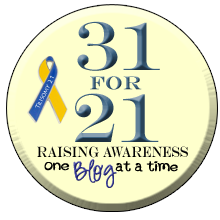 Grab This Button