Joe is the runner in this family. He ran his first marathon in 2012 and this Sunday he will run in his second Marine Corps Marathon, and fifth overall (plus a half thrown in there).
Last year we went to
DC to cheer him on
and it was a fun time for the kids cheering for everyone and then seeing Joe running towards us.
Since he started running he's been representing Research Down Syndrome Runners raising money for Down syndrome cognition research.
RDS recently merged with LuMind
which became the
LuMind RDS Foundation
. They both had the same mission and end goal of raising money for cognition research and they used the same scientific advisory board; now resources can be pooled for one streamlined organization with the runner's program staying active.
If you'd like to support Joe's race this Sunday, and, ultimately support Kayla and all individuals with Down syndrome, please consider a donation to
his fundraising page for the Marine Corps Marathon
. Every donation is appreciated.
Down syndrome is one of the most common genetic conditions, yet the least funded. LuMind is doing great things in the field of Down syndrome cognition research with
providing grants (10.4 million since 2004
) for research and we'd like to support this effort in any way that we can.
We had an opportunity to support LuMind RDS in a fun way this past summer - we participated in the 2nd annual Race for Research. This was a 3 day road rally/scavenger hunt through SC/NC with a NASCAR-related theme. One of the highlights of the trip this year was getting a ride in the pace truck for a couple of laps at Darlington Raceway.
Met NASCAR legend and Hall of Fame-r Cale Yarborough
Running across finish line at Charlotte Motor Speedway
Met current NASCAR driver Austin Dillon
Another legend and International Motorsports HOF-er Humpy Wheeler (also the voice of Tex in the movie CARS) signed Lucas' forehead, and the dollar he gave him for knowing the general area of where Maine is!
Fundraising Websites - Crowdrise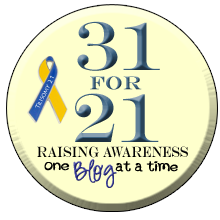 Grab This Button