I didn't know Kayla would be born with Down syndrome, I knew it was a possibility because of the triple screen I had, but I didn't confirm it with an amnio.
I never did receive much info about Down syndrome from the OBs office, or from the hospital where Kayla was born. The only information I was ever given was from Kayla's assigned pediatric provider from the military clinic. She tried her best with providing us info but all we took home was some medical info printed off the internet.
This was only twelve years ago.
For parents with a newborn with Down syndrome - whether diagnosed prenatally or at birth - there are a few places where you can get support, information, resources, and up-to-date accurate information about Down syndrome.
Down Syndrome Pregnancy
is a program administered by the National Center for Prenatal and Postnatal Resources at the University of Kentucky's Human Development Institute. They produce
Brighter Tomorrows
- an online resource for new and expectant parents, and the
Lettercase booklet Understanding A Down Syndrome Diagnosis
.
The
Down Syndrome Diagnosis Network
provides education, support, and connection with other parents who have been there; who have received a Down syndrome diagnosis.
If you have received a new diagnosis of Down syndrome hopefully you'll find the support, education, information, and network from these links to help navigate what this diagnosis means.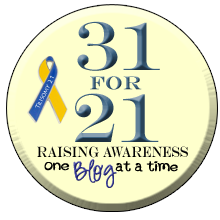 Grab This Button