October 1st = The first day of Down Syndrome Awareness Month and the month long blogging challenge of "31 for 21". It's
NOT
too late to
sign up and participate
! You can join in even if the month is half over with! Blogging for 31 straight days might seem daunting, but I assure you nothing bad will happen if you end up not finishing the month, or skip a day or two. It's just a fun blog challenge to do in the month of October. Bring some awareness, advocacy and acceptance to the world!
In case I have any new readers - and hi to all my 'old' readers! - I just wanted to do a quick introduction about myself and why my reason for blogging for 31 for 21.
I'm a SAHM, by choice (and which I feel fortunate to have the choice) to two kids. Kayla is our first-born child and she is the reason I blog for 31 for 21. She has that extra chromosome on her 21st pair and came with a diagnosis of Down syndrome. She also has
Celiac disease
and ADHD. And probably some sensory issues as well, but no formal diagnosis for that. She loves ballet, drama, and being outside.
Lucas is our first-born son (I know he would appreciate being described as 'first-born' something!). Although he is younger than Kayla by almost 5 years, he is a great brother with a big heart and watches out for her (even making sure other people know she can't have gluten!). He has to be right in the middle of everything or feels he's missing out on something, and he's a voracious reader. He read through most of the Magic Tree House books this summer. He also likes being outside and playing soccer.
We're a military family (Go Air Force!) soon to be with a 'retired' in front of that though! I am also a consultant with
Discovery Toys
, a Family Partner with
Family Connection SC
, and a volunteer with
LuMind Foundation.
We found out at birth that Kayla has Down syndrome; although it was suspected during my pregnancy based on the results of the prenatal screening I had done. Those results indicated I had a 1 in 88 chance of having a baby with Down syndrome. We declined the amnio. You can read about her diagnosis in
this post: Guilt.
The story of that post became the basis for my story in the book
Gifts: Mothers Reflect on How Children With Down Syndrome Enrich Their Lives.
I've been blogging for 8 years now and participating in 31 for 21 for 8 years as well! So, welcome to my blog and welcome to "31 for 21!"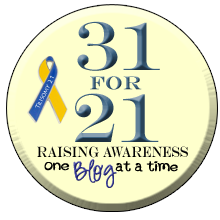 Grab This Button