6 years ago
Tricia
came up with a
most wonderful idea
for raising awareness during National Down Syndrome Awareness Month (which is in Oct). 6 years ago
I joined in
on her blog challenge and have been participating every year.
Down syndrome is medically known as Trisomy 21. Trisomy 21 is for the 3 copies of the 21st chromosome that individuals with Down syndrome have.
There are 31 days in the month of Oct.
The blog challenge is to blog for 31 days for (T)21. Blog every day in the month of Oct in honor of National Down Syndrome Awareness Month.
This year Tricia is stepping down from hosting 31 for 21 and asked me if I would like to continue what has become a tradition for hundreds of bloggers with 31 for 21 and host it.
I told her of course I would be
honored
to continue what she started and keep the ball rolling with this awareness campaign!
Please join in with the blog challenge of posting every day for the month of Oct.
You do NOT have to blog about Down syndrome every day. Just post once a day about anything. But at least mention once that you're participating to raise awareness for Down syndrome.
You do NOT have to be the parent of a child with Down syndrome to participate!
The more bloggers
outside
of the Down syndrome community who participate, the more awareness we can raise. Please consider participating! Please don't feel that if you're not a parent to someone with Down syndrome you wouldn't know what to blog about. Just blog about what you want to blog about ... you'll be raising awareness when you link back to this post for information regarding what 31 for 21 is all about.
Participating is easy!
1. Grab the button
2. Sign Mr Linky so other bloggers can see who else is participating
3. Blog every day in Oct
4. Mention on your blog why you're blogging for 31 for 21
5. If you tweet about it use hashtag #31for21 to spread the awareness
Please share and spread the word!
I think I have the button issue fixed (crossing fingers!) - sorry about that! Please let me know if there are still problems getting the button to display properly on your blog.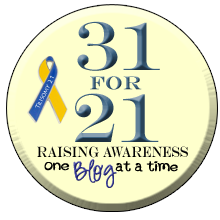 Grab This Button
Here are a couple other ideas and opportunities to raise awareness during National Down Syndrome Awareness Month:
The
National Down Syndrome Society
has a wonderful
Blogger Guide
put together about the NDSS initiatives and other great ideas about raising awareness throughout the month of October.
Join the
DS Awareness Weekend Blog Hop
. This hop will run every weekend in Oct. You don't have to blog anything new during those weekends. If you're participating in 31 for 21 you pick a favorite post from that week and link it up; if you're not doing 31 for 21 you pick any favorite post to share. There are optional prompt ideas listed if want to blog something new on those weekends.