Kardz By Kenz
is a website featuring McKenzie Howard's colorful artwork turned in to greeting cards. She is 19 and has Down syndrome (and is local to me in the Charleston area!)
For each packet (includes 5 different designs) sold McKenzie also donates a portion of her earnings to a favorite charity. She has supported the
Down Syndrome Association of the Lowcountry
,
Camp Victory Junction
, and
National Down Syndrome Society
.
There is also a
map showing the different states
where her cards have been shipped to. She has 32 so far (and 2 countries) - maybe someone out there lives in a state that she hasn't sold to yet!
Here is a great article about her in the
Post and Courier highlighting Young Entrepreneurs.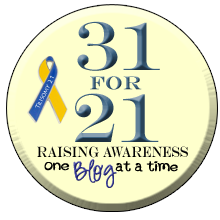 Grab This Button