A couple weeks ago I saw this quote on
Shelley's
FB page. She got the quote from the Down Syndrome Ireland Group and it is from a parent who has a teenager with Down syndrome.
"Sometimes our children with Down syndrome are more disabled by the low expectations of those around them than they are by the condition itself."
I love this quote. How simple, yet profound, and powerful.
I think about years ago when babies with Down syndrome were automatically placed in institutions because of low expectations. Because parents were told they would be better off there.
If you have low expectations and don't challenge a child, if you don't expose a child to learning opportunities, then how indeed are they supposed to learn? So of course the misconception was continually perpetuated that those with Down syndrome couldn't learn, couldn't amount to anything, couldn't do anything ... because they were placed in institutions and not afforded the opportunity to learn.
This quote is also a reminder to myself that "those around them" can also refer to parents. Myself. Sometimes I am guilty of thinking something is beyond Kayla's comprehension, or too hard for her to do. Sometimes I rush her along and just do it myself instead of taking the time to show her or allow her to try for herself.
Sometimes I need the reminder to slow down and give Kayla the opportunities to learn.
Sometimes I need the reminder to allow her to spread her wings and become more independent and realize that everything will be ok.
Sometimes I need the reminder to keep the bar raised on my expectations on what Kayla can and will do.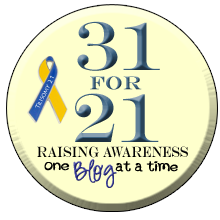 Grab This Button