Last month Roche announced the "initiation of its first Phase 1 clinical trial to investigate the safety and tolerability of a molecule designed to address the cognitive and behavioral deficits associated with Down syndrome."
This new clinical trial
, the first of its kind, targets adults age 18-30.
I think it is exciting that clinical trials for Down syndrome are now being thought of as worthwhile and something to look in to.
It'll be interesting to see the results of this study and what this could mean in the future for individuals with Down syndrome.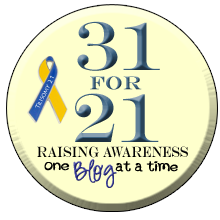 Grab This Button