A very informative interview with Dr William Mobley, MD, Chair of Neurosciences at UC San Diego. He discusses how discoveries in one area of medicine often has wider applications. He describes his transformative work with Down syndrome and the impact it may have on treatment of other diseases like Alzheimer's.
I had my volume turned all the way up and still found it a little difficult to hear everything, but I do like what he had to say regarding his research and the potential for many great things to come. He talks about genes, neurotransmitters, the brain, Alzheimer's and his hope for the future of those with Down syndrome.
Dr Mobley says that he has this dream that a doctor goes in to the appointment with a future mom-and-dad-to-be and they've just been given the diagnosis of Down syndrome. And I want the doctor to say I know there's some concern because you've heard a lot about Down syndrome, but I just want to let you know medical science has made so many exciting discoveries in the last many years, so here's what I'd like to tell you. Your child will be born well, they will not have heart disease, they will leave the hospital on time, they will grow and develop, go to school with other kids, finish grade school, high school, go to college. They'll get a job, drive a car, get married, and you'll never have to worry about Alzheimer's disease again.
I feel like there is so much untapped potential in people with Down syndrome, and research by caring doctors like Dr Mobley are on the cusp of bringing it all out.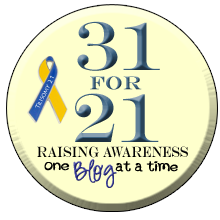 Grab This Button