There are
so many children
listed on
Reece's Rainbow
waiting to be adopted that it's hard to pick any one child out to bring attention to. I frequently check the site to see which kids have moved to the "
My Family Found Me
" page and to catch up on the families to see where they are in their process of adopting.
A couple of my blogging friends have heavy hearts for certain children and are drawing attention to their plights by having a fundraiser/giveaway to advocate for each of their adoptions. They are hoping to raise the funds in their respective accounts so money won't be an issue for a family wanting to adopt either of these boys.
Please check out
Patti's blog post on Artem
(facing transfer to an institution), and
April's post about Bogden
.
Then I read
Shelley's post about the institution
. Shelley and her husband are in the process of adopting their 4th child with Down syndrome from Eastern Europe; and their 2nd child from the same institution. Most of the stories about the institutions aren't the best of stories - the children are neglected badly and don't receive attention or love, or any toys to stimulate their minds.
At this particular institution they are blessed with a director who actually cares about the children and has their best interest in mind. She uses the small budget she receives to make sure the kids are transported out of town and back for medical appointments, she advocates for the children to attend the local schools. She uses the money in her budget for the children so what has been neglected is their building. Rooms are in desperate need of repair.
There is a room in their building that would be perfect for a large playroom, but it is currently not safe for the children. It is estimated that it would cost about $500 to make that room safe for the children ... especially the bedridden children who would need to be down on the floor. There are a few other rooms that need some repair work as well. After I read
Shelley's post
I wanted to write a check for $500 so those kids could have a decent playroom! Sigh ... instead I will give what I can, and help Shelley, Patti, and April spread the word about what is heavy on their hearts.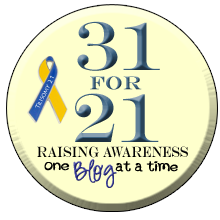 Grab This Button