There has been another death in the T21/Down syndrome community. 10 yr old Renee had
Ds
and Cystic Fibrosis. She passed away this morning following complications due to cystic fibrosis. She leaves behind her parents and brother, Ryan.
I 'met' Renee and her mom on a T21 online message board I joined shortly after Kayla was born.
My heart is aching for her family. Rest in peace Renee.
Please keep them in your prayers.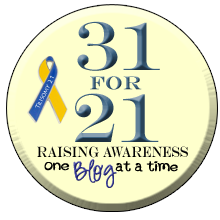 Grab This Button