Back in 2007 Kayla and I attended a Buddy Walk in Roswell (Joe was deployed at the time). We went up the night before and heard keynote speaker Mr. Harris speak about his son Tim.
Tim was currently attending
ENMU-Roswell
and had a dream of opening his own restaurant in his hometown of Albuquerque, NM.
That dream has now become a reality.
Tim's Place
has opened in Albuquerque, NM. How exciting for Tim and his family that this dream has come true. I wish we still lived in NM so we could go check out his restaurant!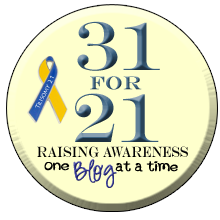 Grab This Button