October is also National Disability Employment Awareness Month.
According to the article
Talent Has No Boundaries: People With Disabilities Are An Access to the Workplace
it makes good business sense to hire people with disabilities. People with disabilities have above average records of job performance and dependability €"which improves productivity and lowers the cost of hiring and training. A growing segment of the population, nearly 1 in 6 Americans, has a disability. Employers can leverage tax incentives and benefit from their distinct perspective to attract a more diverse group of customers
.
Goodwill Industries
, has been helping those with disabilities by providing the tools they need to find a job and be more independent for more than 100 years. Goodwill is encouraging employers to consider the perspectives and contributions those with disabilities bring to the workplace.
I can only imagine the possibilities that will continue to open up for Kayla as she becomes an adult. Changing perceptions is helping the future to look brighter.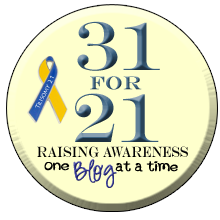 Grab This Button