We had such beautiful weather for the Buddy Walk yesterday; and my mom was able to drive down from MD to join us, so that was nice to have her here.
Here are some pictures from our day:
You don't get between Kayla and her popcorn!
Our shirts represent the different walks we've attended. Joe's is from TX, mine and Kayla's are from VA, and Lucas's from NM. We also have shirts from MD and now SC.
This is the 'smile' face I get from Lucas now:
I love the back of this year's shirts from the Down Syndrome Association of the Lowcountry. It says Acceptance, Awareness, Inclusion
Just a very small portion of the 4000+ walkers that were there.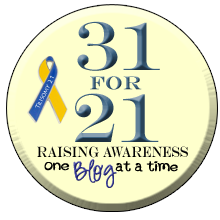 Grab This Button