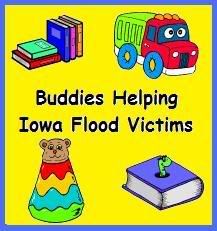 Amy at The Flege Farm
lives in Iowa where the flooding has been just devastating. Thankfully her family is ok, but they know a lot of people who were affected and have lost so much with homes and businesses being flooded.
Jessica of
Raising Joey
came up with an idea to help get some books and toys to the kids who have lost so much and asked if I wanted to join her, of course I said yes. Jessica is having an
Usborne Books Eshow
with all books going to Amy to get in the hands of those who need them.
I'm doing something similar with
Discovery Toys
. I can't set up an "online show" but there is a
Spring Into Summer Sale
as well as
Summer Sunsations Sale
. If you would like to donate to this cause you can donate through paypal (even $1.00 will help) and on June 25th I'll take all donations and place an order sending it to Amy to distribute. If you'd like to place an order yourself you'll need to email me for Amy's address of where to send the order to.