In 2010 we attended the NDSC annual convention in Orlando and had a great time meeting up with friends and making new friends.
At one point Kayla and I were in the bathroom and she was taking her sweet time washing and drying her hands. I called out, "Hurry up Kayla!" and that's when someone else replied and said, "That's my name, too!"
So Kayla and Kayla were introduced.
I wish I had taken a better picture of my Kayla, and had more time to talk to this other Kayla, but I didn't want to take up anymore of her time - and we were all going back to the Friday night dance.
A few months ago I saw an article announcing the
NDSS Self-Advocate of the Year award
and I realize it's the Kayla I met six years ago.
I asked Kayla if she would guest post on my blog for Down Syndrome Awareness Month and she provided me with this post that was also on
her blog
. Kayla is also the Assistant Site Coordinator for Gigi's Playhouse in Syracuse.
Thanks Kayla, for sharing about yourself and guest blogging!
The month of October is Down Syndrome Awareness month. We like to celebrate the awareness of Down syndrome and to let everyone know our abilities and to let them know that we are pretty much capable of doing anything we set our minds to.

I would like everyone to call us Differently Abled as opposed to retarded (hate that word) or handicapped (almost as bad) or Intellectual Developmental Disability (sounds like Science to me) because I think every one of us is Differently Abled in some way, say you can't cook and my mother can, or you can't drive a car and I can, or you can go to college and oh yeah I can too but maybe someone else can't but they can do something else that you or I wouldn't be able to.

We have the same wants and dreams as everyone else. We can do anything anyone else can do. We are MORE ALIKE THAN DIFFERENT I drive, go to college and have 22 credits toward my Associates degree. I have a job at Gigi's Playhouse and Paparazzi Salon and Day Spa and intern at Congressman John Katko's office. I have a boyfriend. My friends that are Differently Abled do many other things equally as well, my friend Johnny is self taught and plays the Bagpipes, my friend Byron can sing like nobody's business, my friend Carrie is a Zumba instructor, the point is, don't squash our dreams. We all have the same abilities as everyone else, we may take longer to do them, but that is more than okay. We just try our best and our hardest. That's what we want everyone to know.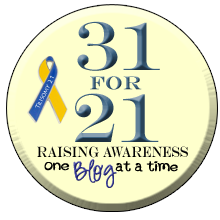 Grab This Button