One of the nice things about living in SC is being close enough to attend
Victory Junction
!
Kayla has attend camp the past few summers and Lucas attended once for the sibling session. (Unfortunately for Lucas that was the last year they had sibling camps - he really liked it there!) The past couple of years while Kayla has been at camp, Lucas and I have stayed in NC for our own little vacation together exploring museums, the zoo, and geocaching.
They also have Family Weekends in the Spring and Fall for the whole family to attend. We've been fortunate to have attended a few of those as well!
We just went last month, and a bonus was that friends from our area were also selected to attend that same weekend. It was fun for the kids to be able to hang out.
One of the things I like about this camp is their ability to accommodate special diets; ie gluten free since Kayla has Celiac Disease. It's so nice not to have to worry about packing gluten-free food for her since it's all provided.
We had a fun family weekend getaway with activities like bowling, fishing, boating, horseback riding, archery, dance parties, and the ever-popular Stage Night.
I think the highlight of this trip was the archery experience. We all got a bull's eye by popping the balloon ... that was pretty exciting! Speaking of archery - Kayla is on the archery club at school this year; I'm happy for her and can't wait to see how she does.
The theme was An Evening In Paris; wear something black and white with a splash of pink!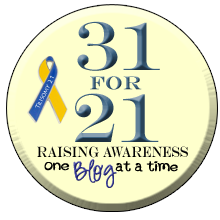 Grab This Button