Julianne Whitleigh is a Master's in Genetic Counseling student at the University of Maryland School of Medicine.
Her graduate research project is on the difference in experiences in medical settings for those who speak Spanish (or English as a second language) and those who speak English as their first language as it pertains to receiving a diagnosis of Down syndrome.
This project aims to study the satisfaction with the new diagnosis experiences as explained to Hispanic parents of children with Down syndrome.
The survey, which should take 20-30 min, is available in Spanish and English and focuses on the experience with the first in-depth discussion about the Down syndrome diagnosis. The hope is to use the information gained to help doctors and genetic counselors provide better care to Hispanic families with children with Down syndrome.
No identifying information will be collected on the survey.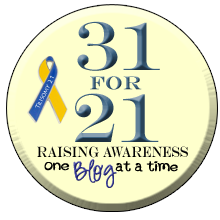 Grab This Button