I met Cindy through her blog
Adventures With Beth
. Beth is her adult daughter who has Down syndrome. I enjoy reading about Beth's life ... I remember when we (several bloggers) celebrated Beth's job and a new relationship (as well as you can celebrate over the internet!).
Since Cindy was much father ahead on the parenting journey with Beth than I am with Kayla I liked getting a glimpse into their lives.
I asked Cindy if Beth would like to guest post on my blog for 31 for 21 and give her perspective as an adult with Down syndrome - what life is like for her. I'm happy to report that Beth was willing to share about herself on my blog! Here are Beth's words about her life:
Hi,
My name is Beth. I met my boyfriend Nick, at bowling alley and kissed (giggle!) and hugs. He's a great guy I met. We talk about marriage and our futures. Where we live. He came to 4th of July parade. He sat next to me. He hang out in my room. We watch movies like Full House and Joseph. (Joseph and the Amazing Technicolor Dreamcoat.) He came to my birthday with his parents.
I like to sing and do art at karaoke with my friends. I sing like Cheetah Girls and Christmas songs, Cats. Oh yea and Les Mis and Phantom.
I work at Little Caesars. I help them fold their boxes. First I set my alarm my phone for the time when I finish. I sign in. I go to fold boxes.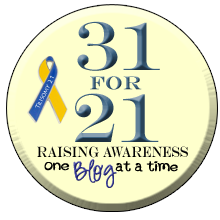 Grab This Button