We attended our first Buddy Walk in 2003 when Kayla was just shy of being three months old.
We went to our local BW yesterday, which makes this year our 14th year of BW celebrations (and 15th overall walk since we attended two walks when we lived in MD in 2009)!
It's usually still too hot in SC the first week in Oct and we end up with sunburned faces and sweaty backs during the walk, but it's still a fun time to get together with family and friends and yesterday was no exception!
Lucas and his cousin
Kayla with a friend from school
A friend across the street
Her counselor from camp!
Lucas with the sign he made
My brother and his family
BFF!
An annual tradition to get a pic of these two at the BW!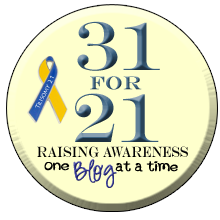 Grab This Button