While we were at the NDSC Convention in San Antonio this summer my mom bought the kids a couple of tshirts. The tshirts say "I (heart) DS." There were also tshirts that said, "My (blank) has DS."
At the table where the shirts were being sold they also had markers and such if you wanted to decorate your shirt (or for writing in the (blank) spot on the other shirt. So they kids wrote their names on their shirts.
After Lucas wrote his name he decided to keep writing. He picked up a different colored marker than what he wrote his name in and he wrote the letters A S S ... and then he just stopped. He was done. So his shirt said Lucas Ass.
My mom said she couldn't let him walk around with that on his shirt, so with some quick on-the-spot thinking she added some more letters to his shirt and Lucas Ass became Lucas Association.
And that is the story behind his Lucas Association shirt!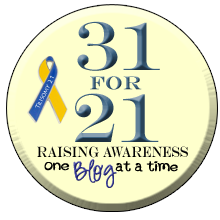 Grab This Button