I can't believe it's Oct 31 -
already!
Made it through another year of blogging for 31 for 21 and Raising Awareness ... one blog at a time.
This is a picture of chromosomes. Not just any chromosomes though. These are Kayla's chromosomes. This is Kayla's genetic make-up. These squiggly lines are what make Kayla ... Kayla.
23 chromosomes from me.
23 chromosomes from Joe.
...and then a little extra on the 21st chromosome.
Trisomy 21. Triplication of the 21st chromosome. Did the extra come from me (most likely), or Joe (possibly)? It doesn't really matter though because it's there.
And the rest of the chromosomes are from both Joe and me. Pieces of us that make up Kayla. More of the other chromosomes than the extra chromosome, yet that extra chromosome, small as it is, makes itself known in so many ways.
Psalm 139: 13-16
For you formed my inward parts;
you knitted me together in my mother's womb.
I praise you, for I am fearfully and wonderfully made.
Is there anything more that needs to be said? She is fearfully and
wonderfully
made.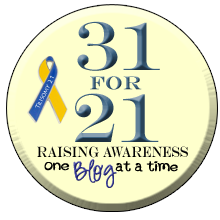 Grab This Button