Crazy Beautiful Love
is hosting a
Blog Hop for Down Syndrome
... today ...Oct 21. Because as you all probably know by now, Down syndrome is also known as Trisomy 21 because of the extra copy of the 21st chromosome.
If you're visiting my blog for the first time - hello!! and welcome. I'm Michelle, and I'm married to the military. The Air Force to be exact. By way of my husband Joe! I have 2 kids. Kayla is 8 and she is the reason I'm raising awareness for Down syndrome (she also has Celiac Disease). Lucas is 3 and is already becoming a very caring and concerned brother! When they are playing in their pretend kitchen with play food Lucas tells Kayla she can have "this pizza because its gluten-free", but she can't have his because "it has wheat." Love watching their relationship develop!
Check out my post just below this one to discover some of the
"perks" of having a child with Down syndrome!
Now to get to hopping to check out some new blogs!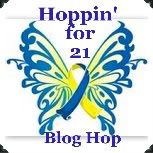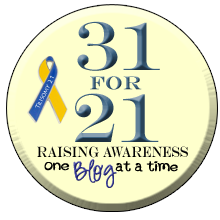 Grab This Button