Signing Time!
has been big in our household. Watching the videos and learning ASL really helped Kayla start communicating with us before she could verbally express to us what she wanted. We bought the first video and were instantly hooked (and this was the original video, not the ones that have been redone and updated!) and we ended up buying the whole set soon after that. Each time another set came out we bought that one too. Its been great viewing them with Lucas as well and watching how easily he picked up the signs too.
Rachel Coleman
performs at numerous
Buddy Walks
each year (and we felt lucky to
meet her last year
!). For National Down Syndrome Awareness Month you can get the
Signing Time Down Syndrome Daily Support Bundle
- on sale now. The DVDs in this bundle are
Playtime Signs, Family, Feelings & Fun, My Day, and Helping Around The House
. These were chosen based on recommendations from parents, educators, and other professionals. This bundle is designed to introduce children to signs that will enhance communication, social interaction, and functional skills. This set will teach basic signs for family members, feelings, social greetings, daily routines, and more.
Not only will you get the DVDs mentioned above, you'll also get the
Hopkins Mini Plush Frog
. There is also this free pdf for parents and educators:
Using Signing Time With Children Who Have Down Syndrome.
Thanks Rachel, for your continued support of the Down syndrome community!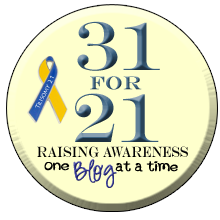 Grab This Button