Kayla likes to give hugs. She gives hugs to anyone and everyone; including strangers. She does not do this to 100% of the people we pass, she does not even do this every single time we go out, but she does hug. Sometimes her hugs are so enthusiastic - like she hasn't seen someone in years when she doesn't know them at all.
Of course adults are fine with it and say 'oh she's ok!' and give her a pat and/or hug back. She'll hug kids sometimes too and some of them look at her sideways and keep their arms straight down at their sides.
I want to tell the adults that no it's actually not ok for her to be hugging strangers. Will they think it's ok and cute when she's 13? Will she still be doing that at 13 or will she grow out of it? Maybe I can teach her to just offer a handshake instead.
Several weeks ago we were leaving Cold Stone and Kayla was in one of her hugging moods. There were a couple kids playing outside, a few adults nearby at one table, and a group of teens at another table. Kayla made the rounds. And when I say she made the rounds, I mean she hugged
every.single.person.
at both of those tables.
Everyone accommodated her and they were all smiles as she went around each table. Even the male teens couldn't help be smitten by her outward display of affection and hugs freely given.
And what was I doing? Standing off to the side with a slight smile on my face but cringing inside. I cringe when she does this. Why? Because I feel like she's perpetuating the
stereotype
that people with Down syndrome are such happy, loving people.
I know people mean well when they say that, but sometimes it sounds like a consolation prize. "Oh you have a child with Down syndrome? Poor you. But hey! They are such happy, loving people!"
Watching her that day also made me cringe because it brought back this memory of an
incident during story time
- when Kayla was 2.5 yrs old. The librarian said, "this world has enough smart people in it and what we need are more people like that (meaning Kayla/Ds) people who are good huggers." That comment rubbed me the wrong way then, and it still rubs me the wrong way today.
I don't want the world to look at my child and think that's all she is - a good hugger. I want them to know there is so much more to her personality and who she is as a human being. I want her to be her own individual, unique person - not lumped together with a group of people because they share an extra chromosome and become just this stereotype.
Driving home that day from Cold Stone I did some thinking. Besides the 'stranger danger' concept that she needs to learn, is it really such a
bad
thing to like to give out hugs? Aren't there worse things she could be doing? Isn't giving a hug something positive? Don't people usually walk away smiling after Kayla hugs them? Why do I have to have such a hang up about her hugging people?
Even though I don't like how the librarian said it, maybe there is some truth to what she was saying after all. Maybe the world really could use more hugs. Maybe we're all in such a rush to get here or there or let this or that bother us; maybe we're not taking the time to see what's around us, or who is around us. We stay inside our own comfort zone and don't acknowledge those we pass by on the street. Maybe the world would be a better place if we were more friendly, affectionate, and offered up a hug or two now or then.
So yes, it might contribute to that stereotype, but my daughter is a hugger. I think it's time I get over myself about that and embrace it.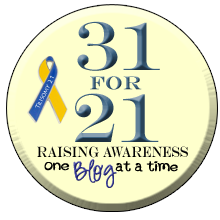 Grab This Button