Short post today as I'm spending a good part of my day on a couple of airplanes traveling back home. I was in MD for the long weekend to go wedding-dress shopping with my sister.
Parenting
magazine is once again putting a call out for
photos of kids with Down syndrome for their photo gallery.
If you haven't submitted your photo yet, make sure you do - it's wonderful to look through the numerous photo galleries and see all those beautiful kids!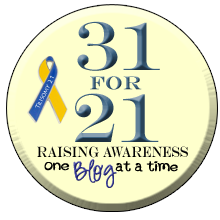 Grab This Button