A couple celebrities have made the news recently with their involvement with supporting people with Down syndrome.
Jamie
Foxx
has a sister who has
Ds
.
DeOndra
participated in the
Be Beautiful Be Yourself Jet Set Fashion show
. The fashion show
raised $1.45 million
to benefit the
Global Foundation for Down Syndrome
.
Watch
Jamie

Foxx's

interview with ET
about caring for his sister. The most memorable quote from the interview, "I don't call it a condition, I just call it living." That's my new mantra!
Kathy Ireland's sister recently gave birth to a daughter who has
Ds
. She wrote an article titled
"The Tragic Shortfall In Down Syndrome Research"
She points out that while
Ds
is probably the most top genetic issue in the country, funding for it continues to be reduced. The National Institutes of Health expects to spend $19 million on
Ds
research. That is less than .01 percent of its research budget. That is significantly less than the $114 for youth violence, $96M for smallpox, $73M for ADD, and 170 other subjects.
Its nice to have some celebrities spotlighting Down syndrome.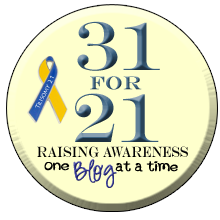 Grab This Button