The time is here for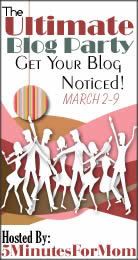 Parties will be going on all week throughout blogland (there are almost 500 participants now!); and what better day for me to throw a party?
Why is today so special? Well it's my brother's 24th birthday today - Happy Birthday Steven! He also recently found out he's going to be a daddy! (I can't picture my little brother a daddy; I keep forgetting he's 'all grown up' now!) So that means I'm going to be an aunt...reason to have a party! There are also a couple other reasons to celebrate, but I'm going to share those with my gratitude post tomorrow!
If you're here visiting for the first time - welcome! We are a military family and we live on base - so if you don't have an ID and sticker for your car you'll need to stop at the visitor center and let me know you're coming so I can sign you in. Now that we've got that formality out of the way - come in and visit!
A little bit about us - as I mentioned we're a military family and my husband and I both grew up on military bases, so we're used to this lifestyle! We have a 3.5 yr old daughter, Kayla, and yes that would be her plastered all over the blog! I'm a SAHM and also a consultant with
Discovery Toys
.
I've got some
Razzmopolitans
and if you're just coming in from out of the cold I've got some
Hot Spiced Lemonade
. If you do a search on my blog for "Favorite Ingredient Friday" or "Slow Cooker Thursday" you'll find a lot of wonderful recipes; help yourself and thanks for stopping by!